Association of Fundraising Professionals, Idaho Chapter

About Us
Welcome to the Idaho Chapter of AFP
A statewide, membership-based, nonprofit organization that encourages a culture of philanthropy in Idaho by providing fundraising professional education opportunities and networking in a supportive environment.
AFP Idaho is proud to be a part of the international organization with over 57 members from throughout Idaho.
Creating Sustainable Funding For Your Nonprofit  
In this highly engaging overview of the Benevon Model, you will learn how to implement this systematic process for engaging and developing relationships with mission-focused individual donors. Learn to implement mission-focused, permission-based fundraising, how to make your organization more visible in your community, and how to identify and cultivate individual donors who are passionate about your mission.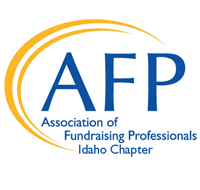 Address
PO Box 7225, Boise, ID 83707